As previously mentioned in the November 8th article, due to popular customer demand – USA2GEORGIA has brought back its parcel repacking service!
The fact that the majority of online stores in America send products in huge boxes, and the customer has to pay for the volumetric weight of the parcel according to international air-shipping standards, is not news.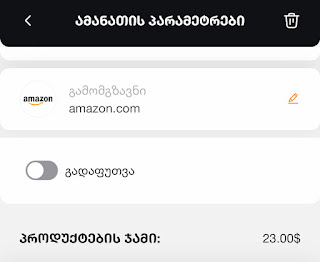 ასე, რომ – შეგიძლიათ ისარგებლოთ <გადაფუთვის სერვისით> და ტრანსპორტირებისას დაზოგოთ მნიშვნელოვანი თანხა.
Clothes received in a box will be placed in a polythene bag and counted only by the weight of the scale. 

Also, products that already have solid product packaging and are not breakable will be shipped without a mailbox, and mailbox(es) that are too large will be reduced in size as much as possible. 

Repackaging services will not apply to parcels received with a polyethylene bag, because such parcels are already considered weight!
You can activate the repacking service before receiving the parcels, after adding the tracking code to " Received parcels ". Also, in Settings -> Repacking , you can specify " Automatic repacking " and all your incoming parcels will be checked for repackaging. Please note that receiving repacking services depends on the type of products and packaging.
Parcel repacking service is paid and the customer will have access to information, as a result of the repacking service - how much the savings are. In the case of parcels weighing up to 10 kg received in the American warehouse, the repacking service for each parcel is - 2 US dollars. The cost of the service is paid together with the shipping invoice. And in case of repacking of a parcel with a volumetric weight of more than 10 kg, the repacking service for each parcel is 10 USD and the cost of the service is paid in advance.
Repackaging costs will not be charged for packages that cannot be repackaged or the savings per repackaged volume does not amount to 0.5 kg.
For more details, please see the Terms of Service , par. #3