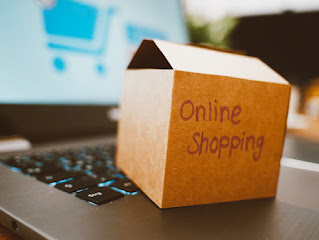 Modern technologies are gradually changing the world, our way of life, free time and habits.
"Virtualization" of procurement processes of various products is one of the main trends of the time.
Nowadays, more and more people realize that making purchases through the Internet is convenient and profitable. 
To simplify a bit, imagine "shopping" at any time, which is a great convenience. You don't tire yourself by thinking about the weather, you don't have to go through traffic jams to get to the store, you don't fall asleep in a helpless queue at the cash register, and you also take care of your nerves 😌
Instead, it is a doubly pleasant process to browse countless online stores while curled up on the sofa with a fragrant coffee in hand. Sort by categories, colors, sizes and save time.
Online stores very often pamper us with incentive coupons, discount vouchers and gifts. We may not really need this or that item, but because of the tempting price, we "buy it" ☺️
At the same time, it allows us to evaluate the quality of the products we are buying based on the so-called reviews, which makes our work much easier and allows us to make decisions quickly. 
In addition, the online stores feature numerous name brands as well as top designer collections at discounted prices, which I agree is a great luxury. 
And, the most pleasant moment-SMS:
"A parcel has arrived in your name"
And voila! We have the desired package! 
What's so funny..
If you have not yet tried online shopping for various reasons, for example - the subscription procedure scares you, or you do not know where, in which online store to buy items for various purposes, we will help you with this too 🧡
To make you feel comfortable with online shopping, join shopaholic groups, get free online consultations every day for fast and budget online shopping - what? where when - For sale at the cheapest price!
✔️ you save time;
✔️You will interact with an audience with similar interests;
✔️ exchange information and share experience;
✔️ You will receive free consultations regarding subscription procedures;
For ladies – www.bit.ly/3dWEDtt
For men – www.bit.ly/2NTy9Rr
For parents – www.bit.ly/2NPGDsX
Everything for home – www.bit.ly/2VIrEVP
For sports fans – www.bit.ly/3dXemv4
Until the meeting! 😊